Aanii, Boozhoo, Koolamasi, Shekoli, Shekon, Tansi
Welcome to Indigenous Studies
Indigenous Studies is an interdisciplinary program of study, examining topics relevant to Indigenous peoples' realities. Housed in the Faculty of Social Science, the program provides students with an opportunity to listen, learn, and engage with matters that are important to Indigenous peoples while providing them with the flexibility to combine their program with other undergraduate degrees.
Call for Applications: Indigenous Artist-in-Residence

Peace and purpose
A health equity advocate, Vanessa Ambtman-Smith gives back to the Indigenous community that healed her.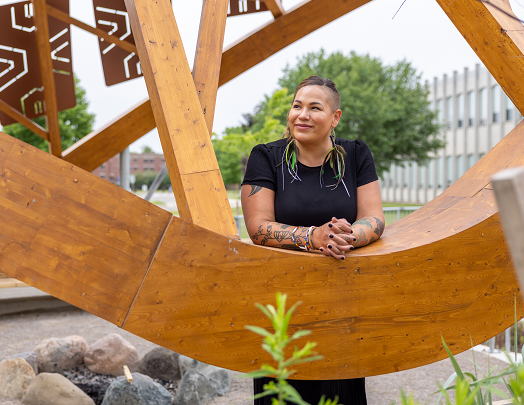 Welcoming Professor/Artist Jackson 2bears - January 2024!
Tékeniyáhsen Ohkwá:ri (Jackson 2bears) is a Kanien'kehaka (Mohawk) multimedia installation/ performance artist and cultural theorist from Six Nations and Tyendinaga. 2bears' research-creation activities focus on Indigenous land-based histories and embodied cultural knowledge, wherein they explore the creative use of digital technologies as a means to support the innovation, transmission, expression, and transformation of FNMI creative and cultural practices.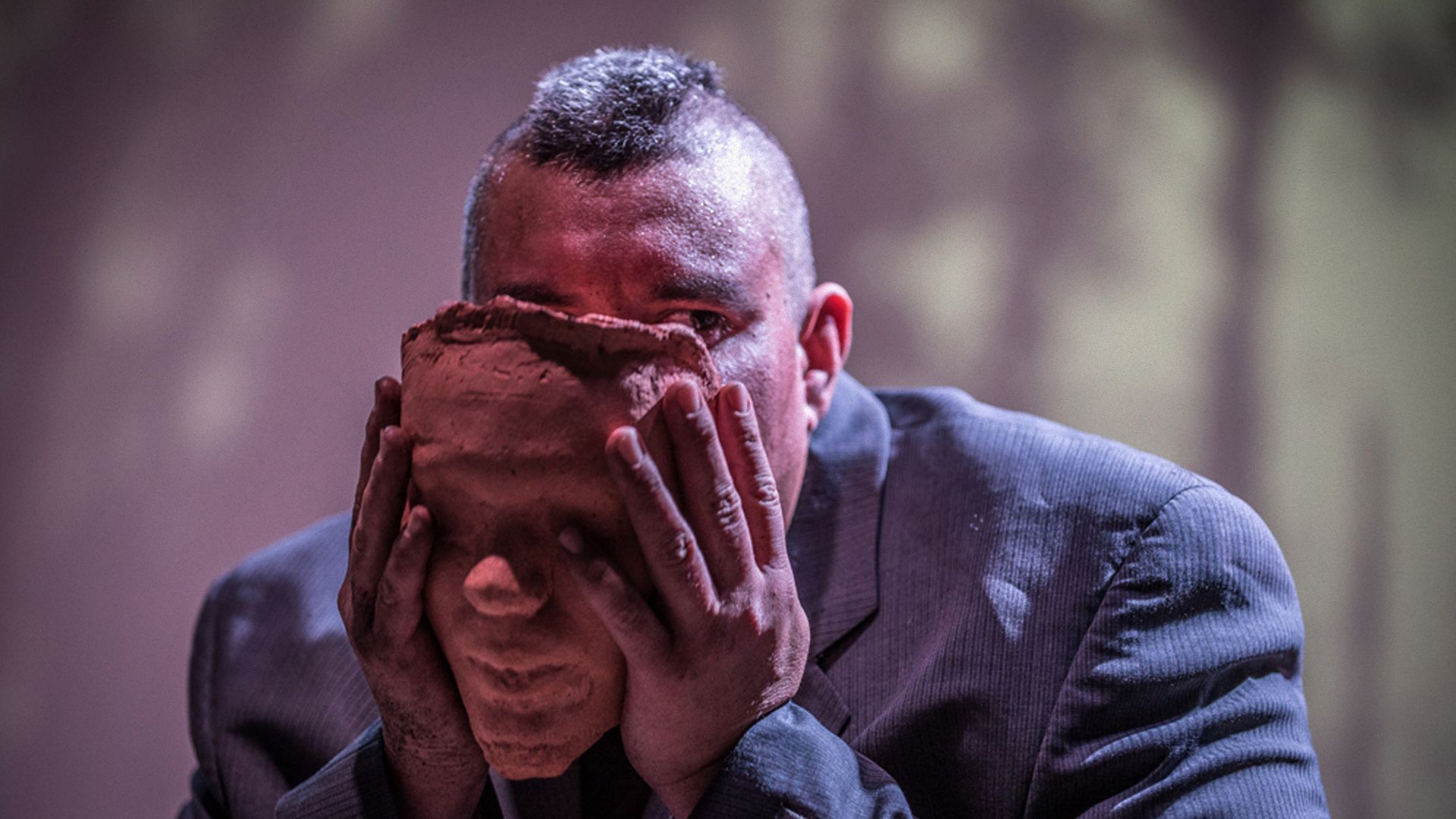 For more information, click here.
Indigenous Studies Program Strategic Foundations Report
June 2023
Important Dates for October:
2nd
Last day for students on exchange or a letter of permission to submit transcripts for graduation at Autumn Convocation
9th
18th - 20th
30th - November 5th
What's new
Indigenous Studies Mural!
New Indigenous Studies mural honours community voices on Western University campus.
Two bears climb trees, acting as protectors as animals gather around a sacred fire. Flowing behind it all are the waters of the Deshkan Ziibi.
This scene is part of a new mural outside the Indigenous Studies office on the third floor of the Social Science Centre at Western. The mural has been created by students, staff and faculty connected to the program.
Mike
Cywink, an Indigenous Studies student and staff member at Western, designed the mural with input from the community.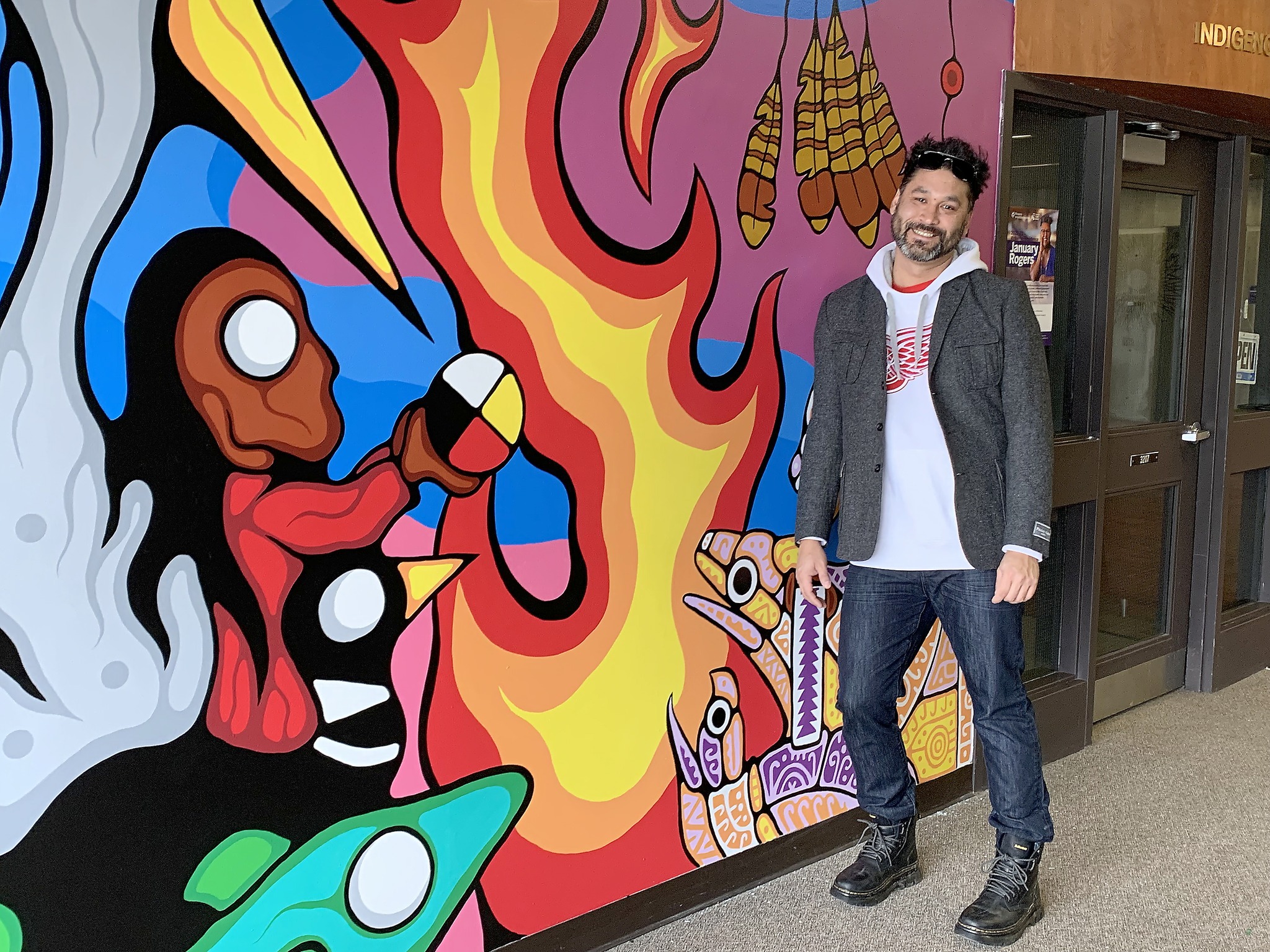 Indigenous Studies collaborates in Multi-generational Wisdom Council on climate crisis
In March of this year Indigenous youth and traditional knowledge holders from from Deshkan Ziibi and  Alba/Scotland got together for a virtual wisdom council to discuss the role of Indigenous knowledge and intergenerational connections as a means of strengthening climate crisis resilience. The Wisdom Council was also attended by interested members of the public from Alba, Turtle Island and Aotearoa. This was the second of two wisdom councils led by the Alliance for Intergenerational Resilience, Western University and Vancouver Island University. We are very happy to have had the opportunity to collaborate with the Head and Heart Indigenous Research Fellowship program (HHIRFP) Office of Indigenous Initiatives at Western, and in particular Indigenous Studies student and HHIRF Chantel Jamieson in producing a report on both wisdom councils. The report on both wisdom councils can be read here. The report can be read here.
Snapshot of 2023-24 Courses
INDIGSTU 1020E – Introduction to Indigenous Studies, Instructor: Renee Bedard
INDIGSTU 2113 – Algonquain Language and Culture, Instructor: Mario Wassaykeesic
INDIGSTU 2210F – Indigenous Peoples & Canadian History, Instructor: Cody Groat
INDIGSTU 2212F – Cultures of the Pacific, Instructor: D. Campbell
INDIGSTU 2218G – Contemporary Indigenous Issues, Instructor: Vanessa Ambtman Smith
INDIGSTU 2233G – Archeology of Ontario and the Great Lakes, Instructor: Peter Timmins
INDIGSTU 2251G – Select Topics Indigenous Studies, Instructor: Vanessa Ambtman Smith
INDIGSTU 2253B – Endanger Langs & Revitalization, Instructor: T. Granadillo
INDIGSTU 2601G – Indigenous Environments, Instructor: Chantelle Richmond
INDIGSTU 2676B – Land, Arts, Place l
INDIGSTU 2682G – Indigenous Women's Art, Instructor: Renee Bedard
INDIGSTU 2807F – Indigenous Feminisms, Instructor: Renee Bedard
INDIGSTU 3140F – Indigenous Knowledge and Traditions, Instructor: Denise Desormeaux
INDIGSTU 3142F – Doing Research with Indigenous Communities (In a Good Way), Instructor: Ashley Sisco
INDIGSTU 3267G – Residential Schools, Instructor: Cody Groat
INDIGSTU 3722G – Indigenous Political and Legal Issues
INDIGSTU 3880F – Indigenous Literatures of Turtle Island, Instructor: Pauline Wakeham
INDIGSTU 4022E– Field School in Indigenous Studies
INDIGSTU 4023F - Research in Indigenous Studies, Instructor: Desmond Moser
INDIGSTU 4806G – Indigenous Peoples & Archives, Instructor: Cody Groat
INDIGSTU 4903G – Indigenous Research Methodologies, Instructor: Renee Bedard

For course descriptions, see the Course Description Page 
For full course listings, see the 2023-2024 Timetable