Sekoh, Shekoli, Boozhoo, Aanii, Tansi, Wachay
Welcome to Indigenous Studies
Indigenous Studies is an interdisciplinary program of study, examining topics relevant to Indigenous peoples' realities. Housed in the Faculty of Social Science, the program provides students with an opportunity to listen, learn, and engage with matters that are important to Indigenous peoples while providing them with the flexibility to combine their program with other undergraduate degrees.
Snapshot of 2020-21 Courses
INDIGSTU 1020E
– Introduction to Indigenous Studies, Instructor: Diana Lewis
INDIGSTU 2104
– Introduction to Mohawk Language, Instructor: Kanatawakhon Maracle
NEW – SOC 2190G
 – Decolonizing Canada, Instructor: Janice Forsyth (offered by Sociology but counts towards IS modules)
INDIGSTU 2203G
– Indigenous People, Globalization, Environment, Instructor: Dan Jorgensen
INDIGSTU 2213F
– Historical Issues, Instructor: Rick Fehr
INDIGSTU 2218G
– Contemporary Indigenous Issues, Instructor: Diana Lewis
INDIGSTU 2234F
– Andean Prehistory, Instructor: Jordan Downey
NEW – INDIGSTU 2253A
– Endangered Languages, Instructor: Tania Granadillo
INDIGSTU 2501F
– Iroquois Arts, Instructor: Kanatawakhon Maracle
INDIGSTU 2601G
– Indigenous Environments, Instructor: Chantelle Richmond
INDIGSTU 3104
– Intermediate Mohawk, Instructor: Kanatawakhon Maracle
INDIGSTU 3140G
– Indigenous Knowledge and Traditions, Instructor: Lewis Williams
INDIGSTU 3722F
– Indigenous Political and Legal Issues, Instructor: Ian Puppe
FIELD COURSE - INDIGSTU 4023
- Community Based Research in Indigenous Studies - Desmond Moser and Clint Jacobs
NEW - INDIGSTU 4903G
– Indigenous Research Methodologies, Instructor: Lewis Williams
For course descriptions, see the Course Description Page 
For full course listings, see the 2020-2021 Timetable
About Us
In Indigenous Studies students learn to identify and address complex issues and challenges that Indigenous peoples face today.  Our students do this through in-depth explorations that span disciplines and themes, such as history, language, politics, geography, culture, health, sociology, arts, economics, and education.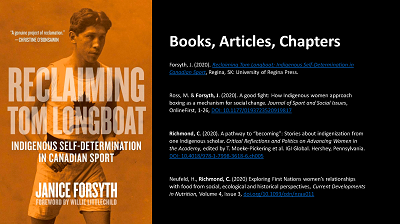 Publications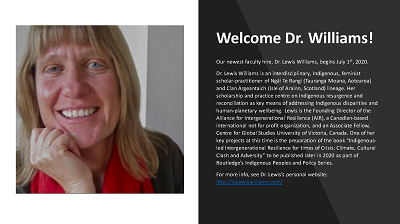 Faculty Profile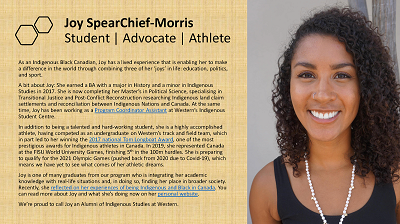 Alumni Spotlight